First-Time Home Buyers: Essential Advice for a Successful Purchase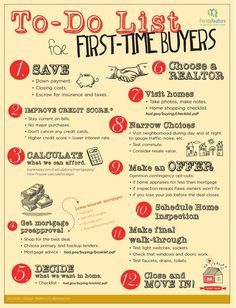 First-Time Home Buyers: Essential Advice for a Successful Purchase
Introduction
Buying your first home is an exciting and important milestone. However, it can also be overwhelming and daunting, especially if you are unfamiliar with the process. Navigating the real estate market as a first-time home buyer requires some essential advice to ensure a successful purchase. This article will provide you with the necessary tips and guidance to make your journey as a first-time home buyer smoother and more rewarding.
1. Determine Your Budget
Before you start your house-hunting journey, it is crucial to determine your budget. Consider your income, savings, and any potential loans or mortgages you may acquire. Knowing what you can afford will allow you to focus your search on homes that fall within your price range, saving you time and frustration.
2. Get Pre-Approved for a Mortgage
Obtaining a pre-approval for a mortgage is a powerful tool as a first-time home buyer. It shows sellers that you are a serious buyer and puts you in a better position to negotiate. Additionally, having a pre-approval gives you a clear understanding of the maximum loan amount you can obtain, allowing you to refine your search criteria further.
3. Research, Research, Research
Educating yourself about the real estate market and the specific location you are interested in is crucial. Research the neighborhood, its amenities, crime rates, and school district. Familiarize yourself with the market trends, recent sales prices, and the overall condition of the properties in the area. This information will empower you to make informed decisions during the purchasing process.
4. Hire a Trusted Real Estate Agent
Enlisting the help of a knowledgeable and experienced real estate agent who specializes in working with first-time home buyers can be immensely beneficial. An agent will guide you through the entire process, help negotiate prices, and handle the paperwork. Their expertise will ensure that you make wise decisions and avoid potential pitfalls.
5. Consider the Future
When buying your first home, it is essential to think about your future plans. Are you planning to have a family? Will you need to move in a few years for a new job? Considering these factors will help you choose a home that accommodates your foreseeable needs. Buying a home is a long-term commitment, so it's important to think ahead.
6. Don't Skip the Inspection
Negotiating an inspection contingency when making an offer on a home is crucial. Even if everything looks great on the surface, a professional inspection can identify potential issues that may not be apparent to an untrained eye. It's always better to be aware of any problems before finalizing the purchase to avoid costly surprises down the road.
7. Patience is Key
The home-buying process can be time-consuming, especially for first-time buyers. It's essential to have patience and not rush into a decision. Take your time searching for the perfect home, and don't settle for something that doesn't meet your requirements or financial capabilities. Trust that the right property will come along.
Conclusion
Buying your first home is an exciting journey that requires careful planning and consideration. By determining your budget, getting pre-approved for a mortgage, conducting thorough research, hiring a reputable agent, thinking about the future, scheduling inspections, and being patient, you will be well-equipped to make a successful and fulfilling purchase. Remember, as a first-time home buyer, don't hesitate to seek advice and ask questions along the way. Happy house hunting!