Step-by-Step Guide: How to Navigate the Home Buying Process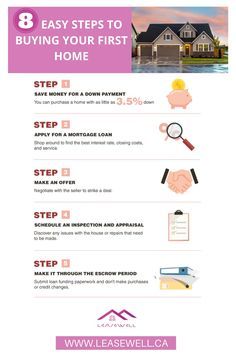 Step-by-Step Guide: How to Navigate the Home Buying Process
Introduction
Buying a home is an exciting and significant milestone in anyone's life. However, the process can sometimes be overwhelming, especially for first-time homebuyers. This step-by-step guide will provide you with a comprehensive understanding of the home buying process, helping you navigate through each stage with confidence.
Step 1: Determine Your Budget
The first and most crucial step in the home buying process is determining your budget. Create a comprehensive breakdown of your monthly income and expenses to evaluate how much you can comfortably allocate towards mortgage payments.
Points to consider:
Factor in other costs such as property taxes, insurance, home maintenance, and utilities.
Ensure you have enough savings for a down payment, typically around 20% of the home's value.
Use online mortgage calculators to estimate monthly payments based on interest rates and loan terms.
Step 2: Get Preapproved for a Mortgage
Getting preapproved for a mortgage can significantly streamline your home buying process. It gives you a clear understanding of the loan amount you qualify for and strengthens your purchase offer when negotiating with sellers.
To get preapproved:
Gather essential documents such as proof of income, bank statements, and credit history.
Shop around for lenders to find the best mortgage rates and terms.
Complete a mortgage application and provide the required documentation.
Wait for the lender's decision.
Step 3: Hire a Real Estate Agent
Engaging a reputable real estate agent to represent you during the home buying process can be incredibly beneficial. They have the expertise and network to help you find suitable properties, negotiate offers, and navigate complex paperwork.
Here's what to consider when hiring a real estate agent:
Look for local agents with extensive knowledge of the market and neighborhoods you're interested in.
Ask for referrals from friends, family, or colleagues who've had positive experiences buying their homes.
Interview potential agents to ensure they have excellent communication skills and understand your needs.
Choose an agent who is responsive, trustworthy, and has a successful track record.
Step 4: Start House Hunting
Now comes the exciting part – house hunting! Based on your preferences and budget, your real estate agent will search for suitable properties and arrange viewings.
Things to keep in mind while house hunting:
Create a checklist of your must-have features and prioritize them.
Consider the location, proximity to schools, transportation, amenities, and potential for growth.
Visit multiple houses and take notes to help you compare and make informed decisions.
Be patient and flexible – the perfect home may not be immediately available but is worth waiting for.
Step 5: Make an Offer and Negotiate
Once you've found your dream home, it's time to make an offer. Your real estate agent will assist you in determining a fair offer price based on market analysis and negotiate with the seller on your behalf.
Key steps in making an offer:
Have your agent prepare a written offer including price, financing terms, and contingencies.
Submit the offer to the seller or their agent.
Be prepared for counteroffers and negotiate until both parties agree on the terms.
Once the offer is accepted, proceed to the next steps.
Conclusion
The home buying process may appear complex at first, but by following this step-by-step guide, you can confidently navigate through each stage. Remember to stay organized, seek professional advice when needed, and be patient in finding the perfect home. Congratulations on starting this exciting journey towards homeownership!