Investing in Vacation Rental Properties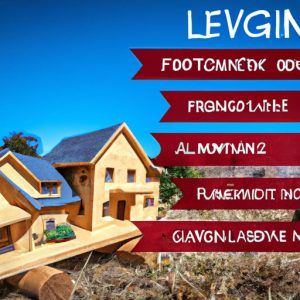 Investing in vacation rental properties has become a popular choice for savvy investors looking to diversify their portfolios. With more people opting for vacation rentals over traditional hotels, this market offers a lucrative opportunity for those interested in real estate investing. In this article, we will explore the advantages of investing in vacation rental properties and provide useful tips for successful investment.
1. High Rental Income Potential
Vacation rentals often generate significantly higher rental income compared to long-term rentals. Short-term rentals command higher nightly rates, especially in popular tourist destinations. This means that even with fewer bookings, vacation rental properties can generate substantial income. Furthermore, by targeting peak seasons and implementing effective marketing strategies, property owners can maximize their rental income potential.
2. Flexibility for Personal Use
One of the key benefits of investing in vacation rental properties is the flexibility they offer for personal use. Owners can enjoy their property during off-peak seasons or reserve specific periods for personal vacations. This not only allows investors to generate income but also provides an opportunity to enjoy a dream vacation home without the high costs of ownership.
3. Appreciation and Tax Benefits
Vacation rental properties located in desirable vacation destinations often benefit from significant appreciation over time. With increasing tourism and limited supply of properties in popular areas, the value of a well-maintained vacation rental property can soar. Additionally, property owners can take advantage of tax benefits such as deductions for property management expenses, mortgage interest, and depreciation, potentially reducing their overall tax liability.
4. Diversification and Risk Mitigation
Investing in vacation rental properties can provide investors with a means to diversify their portfolios. As with any investment, diversification helps mitigate risks. Adding vacation rentals to an investment portfolio that may already include stocks, bonds, or long-term rentals spreads risk and can result in more stable returns. Economic downturns may have less impact on vacation rental properties, as people still take vacations regardless of the economic climate.
5. Considerations for Successful Investment
While investing in vacation rental properties can be rewarding, it requires careful planning and consideration. Here are some key factors to bear in mind:
Location:
Choose vacation destinations with high demand, attractive amenities, and a thriving tourism industry. Research the local regulations regarding short-term rentals to ensure compliance.
Market Analysis:
Conduct thorough market research to analyze the rental demand, competition, and potential occupancy rates. Understanding the local market dynamics will help determine the profitability of the investment.
Property Management:
Consider whether to manage the property yourself or hire professional property management services. Proper management is crucial to ensure a positive guest experience, maintain the property's condition, and maximize profitability.
Marketing Strategy:
Develop an effective marketing strategy to attract potential renters. Utilize various online platforms, social media, and partnerships with local tourism professionals to promote the property and increase visibility.
Budgeting and Expenses:
Create a comprehensive budget that includes mortgage payments, property maintenance, utilities, taxes, insurance, and marketing expenses. It is crucial to accurately estimate these costs to ensure a viable investment.
Guest Experience:
Focus on providing exceptional guest experiences to maximize positive reviews and repeat bookings. This includes maintaining cleanliness, offering amenities, and providing prompt customer service.
Legal Considerations:
Stay informed about the laws and regulations related to vacation rentals in your chosen location. Comply with local legislation, including obtaining necessary permits or licenses.
Investing in vacation rental properties offers an exciting opportunity for investors seeking to diversify their portfolios and earn attractive returns. With careful planning, thorough market research, and effective management, this investment can be a profitable and fulfilling venture.