Navigating Commercial Lease Agreements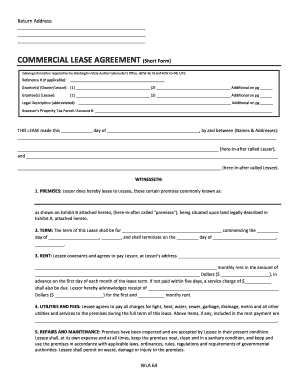 Commercial lease agreements play a crucial role in the establishment and operation of businesses. Whether you are a landlord or a tenant, understanding the terms and conditions stipulated in these agreements is vital to protect your interests and avoid potential legal disputes. In this article, we will delve into the key aspects of commercial lease agreements and provide valuable insights on how to navigate through them.
Understanding the Essential Terms
Before entering into a commercial lease agreement, it is essential to thoroughly understand the key terms and clauses that will shape your relationship with the landlord or tenant. These include:
1. Lease Term
The lease term signifies the duration of the lease agreement, specifying the start and end dates. It is crucial to carefully review this section to ensure it aligns with your business objectives. Additionally, familiarize yourself with any renewal or termination options available to you.
2. Rent and Additional Charges
The rent section outlines the amount of rent, frequency of payment, and any escalation clauses. It is necessary to clarify all additional charges such as maintenance fees, property taxes, insurance premiums, and utilities. Understanding these financial obligations will help you budget accordingly and avoid unexpected expenses.
3. Use and Restrictions
This section defines the permissible use of the leased premises. It may include any restrictions on altering the property or conducting certain activities. Ensure that the allowed use aligns with your business requirements and that there are no restrictions that could limit your operations.
4. Maintenance and Repairs
Commercial lease agreements typically outline the maintenance and repair responsibilities of both parties. Ensure that these obligations are clearly defined, especially for structural repairs, plumbing, electrical systems, and other critical components. Understanding who is responsible for what will prevent disputes in the future.
5. Security Deposit
Most commercial leases require a security deposit, which is held by the landlord as protection against any damages or breaches of the lease agreement. Understand the terms related to the security deposit, including the amount, conditions for its return, and any deductions that may be made.
Negotiating Terms and Conditions
Once you have thoroughly understood the essential terms, negotiating with the other party can help tailor the lease agreement to better suit your needs. Here are some key points to consider during the negotiation process:
1. Rent and Lease Term
Depending on market conditions, you may have room for negotiation on the rent amount and lease term. Consider factors such as location, property condition, and demand to secure favorable terms. Be prepared to justify your proposed changes and find a mutually beneficial solution.
2. Maintenance Responsibilities
Maintenance and repair obligations can be a significant cost for businesses. Negotiate for a fair distribution of these responsibilities or explore the possibility of a maintenance agreement with the landlord. Ensure that these negotiations are reflected in the lease agreement to avoid misunderstandings later.
3. Permitted Use
If the permitted use outlined in the lease agreement is too restrictive for your business operations, discuss potential amendments with the landlord. Justify any necessary modifications, such as expanding the scope of activities permitted on the premises.
4. Lease Termination
Include provisions in the lease agreement that outline the conditions and procedures for early termination. Unforeseen circumstances and changing business needs may warrant the possibility of terminating the lease before its expiration. Clarify the penalties or notice periods to avoid legal complications.
Seeking Legal Advice
Due to the complexity of commercial lease agreements, it is advisable to seek legal advice to ensure your interests are adequately protected. An experienced attorney can review the agreement, identify any potential pitfalls, and offer expert guidance on negotiating favorable terms.
Conclusion
Commercial lease agreements form the foundation of successful business operations. By understanding the essential terms, negotiating favorable conditions, and seeking legal advice when necessary, both landlords and tenants can navigate through these agreements with confidence. Remember to read the fine print, clarify any ambiguities, and ensure that the final lease agreement reflects the agreed-upon terms. With careful navigation, you can establish a solid foundation for your business to thrive.