Home Buying Mistakes to Avoid: Expert Advice to Get It Right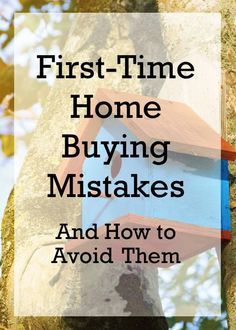 Home Buying Mistakes to Avoid: Expert Advice to Get It Right

Buying a home is one of the biggest investments you will ever make in your life. It is an exciting and important milestone, but it can also be a complex and overwhelming process. To ensure a successful home buying experience, it is crucial to avoid common mistakes that can cost you time, money, and peace of mind. In this article, we offer expert advice on what to avoid when purchasing a home.
Not Getting Pre-Approved for a Mortgage
One of the biggest mistakes potential homebuyers can make is not getting pre-approved for a mortgage before starting their property search. Getting pre-approved will give you a clear understanding of your budget and prevent you from falling in love with a home that is out of reach financially. It also demonstrates to sellers that you are serious and have the funds to make an offer.
Failing to Research the Neighborhood
When buying a home, it's essential to consider more than just the property itself. Many buyers overlook the importance of researching the neighborhood they are considering. Factors such as proximity to schools, commute times, amenities, crime rates, and future development plans can significantly impact your satisfaction with your new home. Take the time to visit the neighborhood at different times of the day to get a feel for the overall atmosphere.
Skipping Home Inspections
Foregoing a home inspection is a risky mistake that many homebuyers make. A professional inspection can reveal potential issues and necessary repairs that may not be obvious to the untrained eye. It's crucial to hire a licensed home inspector to thoroughly evaluate the property's structure, electrical systems, plumbing, foundation, and more. Investing in a home inspection can save you from extensive and costly repairs down the line.
Underestimating the Total Cost of Ownership
First-time homebuyers often underestimate the total cost of homeownership. It's not just about the mortgage payments; there are additional expenses such as property taxes, insurance, utility bills, maintenance, and potential homeowners association fees. Take the time to account for these costs and ensure they fit within your budget. Failing to do so can lead to financial stress and strain on your overall quality of life.
Not Consulting with a Real Estate Agent
Although the internet provides a wealth of information, it's highly recommended to work with a licensed real estate agent when buying a home. They have the expertise, knowledge of the market, and negotiating skills to guide you through the process successfully. A qualified agent can help you find the right home, negotiate offers, handle paperwork, and protect your interests.
Rushing the Decision
Buying a home is a significant commitment, so rushing the decision is a critical mistake to avoid. Take your time to thoroughly research and explore all your options. Don't feel pressured to buy just because of external factors or market conditions. Remember, it's important to find a home that meets your needs and preferences while aligning with your financial goals.
Conclusion
Buying a home is an exciting and life-changing event. By avoiding these common mistakes, you can ensure a smoother and more successful home buying journey. Take the time to get pre-approved for a mortgage, research the neighborhood, prioritize home inspections, plan for the total cost of ownership, consult with a real estate agent, and avoid rushing into a decision. With careful planning and expert advice, you can find the perfect home and make a confident investment that you will cherish for years to come.