Real Estate Development Projects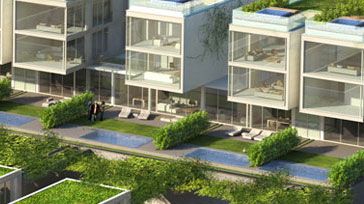 Development projects" width="364″ height="204″>
Real estate development refers to the process of creating, renovating, or re-imaging buildings or land in order
to improve or enhance its value. Development projects in the real estate sector play a critical role in shaping
our cities and societies. These projects involve intricate planning, design, financing, and execution to
transform an idea or a piece of land into a thriving residential, commercial, or mixed-use development. This
article explores various aspects of real estate development projects and their significance.
Phases of Real Estate Development
Real estate development projects typically go through several phases, each with its own unique set of tasks and
objectives. These phases include:
1. Pre-Development
The pre-development phase involves conducting feasibility studies, market research, and procuring necessary
permits and approvals. During this phase, developers assess the profitability, demand, and potential risks
associated with the project. They also evaluate factors such as zoning laws, environmental impact, and
community feedback, which may shape the project's design and overall viability.
2. Design and Planning
In the design and planning phase, architects, engineers, and designers collaborate to create conceptual drawings
and detailed blueprints. This phase also includes obtaining necessary permits and approvals from local
authorities. Developers work closely with professionals to ensure the design aligns with the project's objectives
and meets regulatory requirements. The planning phase also involves determining the project's financing and
construction strategy.
3. Financing
Real estate development projects require significant capital investments. Developers secure the necessary funds
through a combination of equity, loans, and partnerships. Financing options include private equity, bank loans,
government grants, and joint ventures. During this phase, developers negotiate deals and contracts with lenders
and investors to secure the most favorable terms for the project.
4. Construction
The construction phase is where the physical development of the project takes place. Construction teams work
based on the approved design and plans to bring the project to life. Developers oversee the construction process,
ensuring quality control, adherence to schedules, and budget management. Regular inspections and updates are
conducted to ensure the project is progressing as planned.
5. Marketing and Sales
Once the construction is complete or nearing completion, marketing and sales efforts are initiated. Developers
employ various strategies to promote and sell the units or spaces within the development. This may involve
advertising, hosting open houses, and working with real estate agents or brokers. Effective marketing campaigns
can help generate interest, attract potential buyers or tenants, and maximize the project's profitability.
6. Post-Development
The post-development phase involves managing the completed project, whether it is residential, commercial, or
mixed-use. Developers handle operations, maintenance, and ongoing improvement initiatives to enhance the value
and appeal of the development. This phase may also include further expansion or redevelopment depending on market
demand and the developer's long-term vision.
Significance of Real Estate Development Projects
Real estate development projects have a significant impact on urban and rural landscapes. They contribute to the
economic growth of a region, create employment opportunities, and improve the quality of life for residents.
These projects also address the evolving needs of communities by introducing modern infrastructure, sustainable
design practices, and accessible amenities.
1. Economic Growth
Real estate development projects stimulate economic activity in various ways. They generate job opportunities
during the construction phase and beyond, creating employment in fields such as architecture, engineering,
construction, and property management. Additionally, these projects attract businesses and commercial tenants,
boosting local commerce and tax revenues.
2. Infrastructure Development
Development projects often include the creation or improvement of infrastructure such as roads, utilities,
parks, and public spaces. These infrastructure enhancements enhance the livability and functionality of urban
areas, creating a positive environment for residents and businesses. It helps in relieving pressure on existing
infrastructure by expanding capacity to accommodate growing populations.
3. Community Enhancement
Real estate development projects can uplift communities by providing access to affordable housing, healthcare
facilities, educational institutions, and recreational spaces. When done thoughtfully, they have the potential
to revitalize neighborhoods, preserve local heritage, and improve the overall well-being of residents.
4. Environmental Sustainability
Many real estate development projects incorporate sustainable design and construction practices. This includes
features such as energy-efficient buildings, green spaces, water conservation systems, and use of renewable
materials. By adopting environmentally friendly practices, developers promote sustainability and contribute to
the broader goal of reducing carbon footprints and mitigating climate change.
Challenges and Considerations
Real estate development projects are not without challenges. Developers must navigate complex legal frameworks,
financing constraints, regulatory requirements, and community expectations. Factors that influence the success
of a project include market conditions, location, competition, and changing trends in consumer preferences.
Thorough feasibility studies, comprehensive risk assessments, and effective stakeholder management are crucial
to overcome these challenges and ensure project viability.
Conclusion
Real estate development projects are instrumental in transforming cities and shaping urban landscapes. They
contribute to economic growth, improve living standards, and bring forth innovative design solutions. Proper
planning, financing, and execution are key to successful real estate development projects that meet the evolving
needs of communities and create sustainable environments for future generations.
Written by: Your Name