Convenient Condos: Ideal Homes for Young Professionals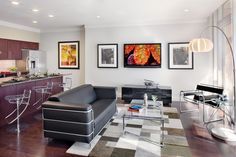 Convenient Condos: Ideal Homes for Young Professionals
The Rise of Condos
In recent years, condos have become increasingly popular for young professionals seeking their ideal living spaces. The convenience, affordability, and lifestyle that come with owning or renting a condo make it the perfect choice for those starting their careers.
Prime Location
Conveniently located in the heart of urban areas, condos are often situated in bustling neighborhoods that offer easy access to workplaces, entertainment venues, restaurants, and public transportation. This prime location saves young professionals valuable commuting time, allowing them to focus on their careers while enjoying everything the city has to offer.
Affordability
Compared to traditional houses, condos are generally more affordable, making them an ideal option for young professionals who may still be paying off student loans or saving for future investments. The lower price point of condos allows individuals to enter the real estate market sooner and gain equity in their property over time.
Low Maintenance
For many busy young professionals, the idea of spending their weekends doing yard work or maintaining a house is not appealing. Condos offer a low-maintenance lifestyle, as most building maintenance and exterior repairs are covered by monthly homeowners association (HOA) fees. This allows residents to focus on their work and personal life without the added stress of household chores.
Amenities
One of the main advantages of living in a condo is the access to a wide range of amenities conveniently located within the building. Fitness centers, swimming pools, rooftop terraces, and communal areas are just a few of the amenities commonly provided. These amenities create a sense of community and offer opportunities for socializing and networking with fellow young professionals.
Security
Condos often have sophisticated security systems in place, providing residents with peace of mind. Gated entrances, surveillance cameras, and on-site security personnel help ensure the safety and well-being of residents, especially for those living alone or working late hours.
Flexibility
Young professionals may have unpredictable schedules and changing career aspirations. Condos offer flexibility in terms of leasing options, allowing individuals to rent or sell their property with relative ease. This flexibility provides the opportunity for young professionals to adapt to new job opportunities or explore different living arrangements without the burden of a long-term commitment.
Long-Term Investment
While condos make great homes for young professionals, they also serve as a long-term investment. As property values rise over time, young professionals can benefit from the potential appreciation of their condo. Additionally, owning a condo allows individuals to build equity, which can be used towards future real estate investments or as a source of financial stability.
Conclusion
Convenient condos have become the ideal choice for young professionals who value location, affordability, low maintenance, amenities, security, flexibility, and long-term investment. These modern living spaces offer an attractive lifestyle that caters to the needs and aspirations of young professionals looking for the perfect place to call home.
Written by: [Your Name]