Sustainable Practices in Commercial Real Estate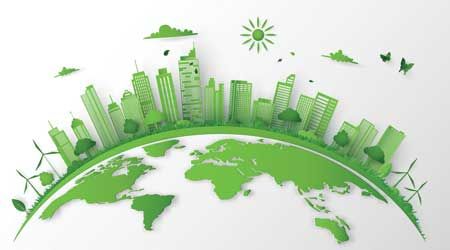 In recent years, there has been a growing emphasis on sustainability in various industries, including the commercial real estate sector. Sustainable practices focus on minimizing the negative environmental impacts of buildings and maximizing their positive contributions to the community and environment. This article explores some of the key sustainable practices being adopted in commercial real estate today.
Energy Efficiency
The commercial real estate sector accounts for a significant amount of energy consumption. Incorporating energy-efficient features in buildings can have a substantial positive impact on the environment, as well as reduce operational costs for businesses. Real estate developers are increasingly investing in energy-efficient lighting systems, utilizing natural light through well-designed windows and skylights, and installing advanced HVAC systems with smart controls.
Renewable Energy Sources
Utilizing renewable energy sources has become more common in commercial real estate. Installing solar panels on rooftops not only reduces the reliance on traditional energy sources, but it can also provide an additional revenue stream through feed-in tariffs or net metering. Some commercial buildings even incorporate wind turbines or geothermal systems to further harness renewable energy and reduce environmental impact.
Water Conservation
Water scarcity is a significant global concern. Commercial real estate can contribute to water conservation efforts by implementing sustainable practices that minimize water use. Low-flow toilets, faucets, and showerheads can significantly reduce water consumption. Implementing rainwater harvesting systems for irrigation and greywater systems for non-potable uses are becoming popular strategies to conserve water resources.
Waste Management
Commercial buildings generate a substantial amount of waste. Implementing effective waste management strategies can significantly reduce the environmental impact. Real estate developers are now incorporating recycling facilities, composting programs, and waste separation systems in their buildings. Additionally, promoting awareness and educating tenants about proper waste disposal practices can help minimize waste generation.
Green Building Certification
Obtaining green building certifications, such as LEED (Leadership in Energy and Environmental Design), is becoming a significant priority for commercial real estate developers. These certifications demonstrate a commitment to sustainable practices and provide a competitive edge in the market. Green building certifications evaluate various aspects of a building, including energy efficiency, water conservation, indoor air quality, and material usage. Buildings that meet the specified criteria are awarded different levels of certification, such as Certified, Silver, Gold, or Platinum.
Adaptive Reuse
Rather than demolishing existing buildings and constructing new ones, adaptive reuse involves repurposing old structures for new and environmentally-friendly purposes. This practice significantly reduces waste, preserves historical and architectural significance, and enhances sustainability in the built environment. Renovating old factories into modern office spaces or converting warehouses into mixed-use developments are examples of adaptive reuse that have gained popularity in commercial real estate.
Green Roof Systems
Green roof systems involve the installation of vegetation on the roof surface of buildings. This sustainable practice offers numerous benefits, including energy savings by reducing the cooling load, improved air quality, stormwater management, and increased biodiversity. Green roofs also help mitigate the urban heat island effect and provide pleasant outdoor spaces for building occupants. Some commercial buildings even cultivate rooftop gardens for growing fresh produce, promoting urban agriculture.
Conclusion
Sustainable practices in commercial real estate play a vital role in reducing environmental impact, conserving resources, and creating healthier and more efficient buildings. From energy efficiency and renewable energy sources to water conservation and adaptive reuse, real estate developers are incorporating numerous sustainable strategies to make a positive difference. Green building certifications and green roof systems further contribute to creating sustainable and profitable commercial properties. As the importance of sustainability continues to grow, the adoption of these practices will help shape the future of commercial real estate.