Real Estate Crowdfunding: A New Investment Avenue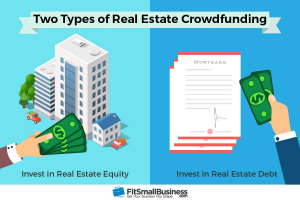 Real estate has always been a popular investment avenue, offering steady income and potential capital appreciation. Traditionally, investing in real estate required substantial capital and expertise, limiting the opportunities available to a select few. However, a new investment avenue has emerged – real estate crowdfunding. This article explores the concept of real estate crowdfunding and its potential as a viable investment strategy.
Understanding Real Estate Crowdfunding
Real estate crowdfunding involves pooling together funds from multiple investors to finance real estate projects. These projects could include residential, commercial, or even industrial properties. The funds are typically raised through online platforms, which bring together developers or property owners looking for capital and individuals or companies seeking investment opportunities. By allowing investors to contribute smaller amounts of money, real estate crowdfunding democratizes access to the real estate market.
The Benefits of Real Estate Crowdfunding
Real estate crowdfunding offers several advantages over traditional real estate investment:
Diversification
With real estate crowdfunding, investors can spread their investment across multiple properties, reducing the risk associated with putting all funds into a single property. Diversification helps mitigate the impact of market fluctuations and potential project failure.
Lower Capital Requirements
Unlike traditional real estate investment, real estate crowdfunding allows individuals to participate with smaller amounts of capital. This opens the doors to a wider range of investors who may not have the financial means to invest in larger properties alone. Lower capital requirements make real estate investment accessible to a broader audience.
Accessibility and Convenience
Real estate crowdfunding platforms are typically accessible 24/7 from anywhere with an internet connection. Investors can browse and evaluate investment opportunities, review project details, and make investment commitments at their own convenience. This eliminates the need for time-consuming and physically demanding property visits and negotiations.
Investment Transparency
Real estate crowdfunding platforms provide investors with detailed information about each project, including financial projections, legal documentation, and associated risks. Investors can conduct thorough due diligence before committing their funds, ensuring transparency and informed decision-making.
Understanding the Risks
While real estate crowdfunding offers enticing benefits, it is essential to acknowledge and understand the associated risks:
Market Fluctuations
Real estate markets are subject to fluctuations, influenced by various factors such as economic conditions, interest rates, and market demand. These fluctuations can impact the performance and returns of real estate crowdfunding investments.
Liquidity
Unlike publicly traded stocks or bonds, real estate investments can be inherently illiquid. Investors may face challenges in quickly liquidating their positions or exiting an investment in case of financial need or changing circumstances.
Project Risk
Not all real estate projects may succeed. Factors such as construction delays, cost overruns, or unforeseen legal issues can disrupt a project's progress and profitability. It is crucial for investors to carefully analyze and assess the risks associated with each investment opportunity.
Choosing the Right Platform
When considering real estate crowdfunding, it is crucial to choose a reputable and reliable platform. Some key factors to consider include:
Platform Track Record
Research the platform's history and track record. Look for their success rate in funding projects and the overall satisfaction of their investors.
Project Selection Criteria
Determine the platform's criteria for selecting projects. Assess factors such as location, market demand, developer experience, and project viability to ensure alignment with your investment goals.
Investor Protection Measures
Review the platform's investor protection measures, such as fund escrow accounts and legal and financial due diligence processes. These measures can give you greater confidence in the platform's commitment to protecting investors' interests.
User-Friendly Interface
An intuitive and user-friendly platform interface is essential to navigate the investment process easily. Ensure the platform provides clear investment information, project updates, and a reliable communication channel with the platform administrators.
Conclusion
Real estate crowdfunding has emerged as a new investment avenue, offering individuals the opportunity to diversify their investment portfolios and participate in the lucrative real estate market. With its lower capital requirements, accessibility, and transparency, real estate crowdfunding has the potential to transform the way people invest in real estate. However, it is crucial for investors to understand the risks involved and choose the right platform to ensure a successful and profitable investment journey.